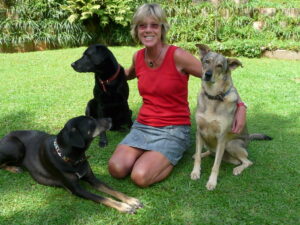 Welcome to Happy Dog Happy Owner
Are you looking for a dog trainer to help you learn your dog's language?
Would you like to understand him better and learn to read in order to build a trusting and emotional relationship with your dog on an equal footing?
Do you want to better perceive his needs and wish for an intimate relationship in which you can work together with fun and joy?
You will find this with me:
An empathetic and friendly way of dealing with people and dogs.
Individual solution-oriented training Help with behavioral problems such as anxiety and aggressive behavior.
Reward-based training that always has the needs of your four-legged friend in mind.
Dogs and cats have always been part of my family, no matter where we live because of work, whether in South Korea, Pakistan, Zimbabwe, Uganda or South Africa.
In Zimbabwe I joined the Gundog Club Mashonaland and did a lot of dummy work with my 2 Labbys.  As a non-hunter, I have successfully led both in numerous field trials, which took place there in winter on the farms.
In Pretoria I worked with the African Veterinary Association in mobile clinics in the townships. There we vaccinated and sterilized numerous dogs and cats every week and cared for sick and malnourished animals. In addition, I gained impressive experience working in an animal shelter in Johannesburg.
In 2011 I decided to train as a dog trainer and behavior consultant at COAPE (Centre of Applied Pet Ethology). I have been providing professional behavioral counseling to dog owners since graduating in March 2014, and opened my doggy ​​​​daycare center in Pretoria, Happy Dog Happy Owner, in January 2015.
In 2019 I moved my dog ​​​​school Happy Dog Happy Owner from South Africa to Oelde. My goal is to show people how to communicate and live non-violently in a respectful and loving relationship with their dogs. Jock, my 11 year old Parson Russell Terrier from South Africa, is now enjoying a German Terrier life and is still a true inspiration to me and my work.