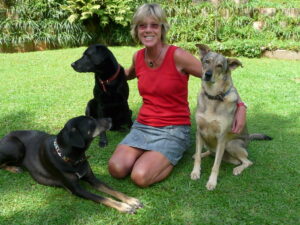 Hello my name is Barbara Schroeter and in 2019 I moved my dog school Happy Dog Happy Owner from South Afrika to Oelde.
Dogs and cats have always been part of my family, no matter where we lived for work reasons, whether in South Korea, Pakistan, Zimbabwe, Uganda or South Africa.
My first dog Hucky, a Border Collie mongrel, I rescued from an animal shelter when I was 24 years old. Unfortunately he died at the age of four because he had eaten a poisonous bait.
After that it took a while until I fell in love with Rico, a Setter Mongrel. Rico accompanied us for 5 years in South-Korea, and after a short break in Germany followed us to Pakistan for five years. Rico was my bodyguard and only with him I felt safe when I was out and about with my horse.
Rico's successor was Estelle, a five year old blonde Labrador girl who settled into our family without any problems, despite a cat mother and her three children. Estelle was seven when we left for Zimbabwe with her, the cats Ronja & Raffy and our daughter Lisa.
In Harare the Labrador puppies Yellow and Kiko moved in with us. Blond Yellow was four weeks older than Kiko, who was black, and training with them was great fun.
After the two had finished the puppy and young dog training, I took them to the hunting dog training in the local gundog club.
The weekly dummy training was crowned by several field trails, which took place there on different farms, especially in winter.
Three years later we moved with Kiko ,Yellow and the cats Ronja & Raffy to Uganda.
I published a book called "Gimme one – A Ugandan Dog Diary".
It describes our life in Uganda from the point of view of my dogs and is still available in German and English.
Shortly after our arrival our dogs found a plastic bag with five newborn puppies. One of the little creatures survived and spent ten wonderful years with us.
In 2009 we moved to South Africa and took Kiko, Kira, Lina and Ronja with us. Unfortunately we had to put Yellow to sleep, because of an autoimmune disease.
In Pretoria I made my decision to become a professional dog trainer.
I completed a 1 year course in dog behaviour and training by the UK based Centre of Applied Pet Ethology (COAPE) in 2011 followed by a 2 year diploma in "Pet behaviour and training of companion animals" in 2014.
Since graduating, I have offered professional dog behaviour training and opened my doggy day care centre 'Happy Dog Happy Owner' in Pretoria in January 2015.
My goal is to show people how to communicate and work with their dogs in a non-violent, respectful and loving relationship.
In 2012 our little star Jock came to us. The little terrier quickly conquered the hearts of those who got to know him in puppy training, or later in agility training or in the dog place.
In 2018, after almost 10 years in South Africa, we moved to Oelde.
Jock, my now 10-year-old Parson Russell Terrier from South Africa, is now enjoying a German terrier life and is still a real inspiration for me and my work.