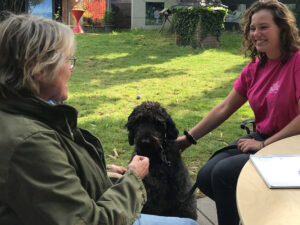 Behavioural problems are defined as behaviours in which the dog displays behaviour that is "considered problematic".
Behavioural counselling is necessary in cases of aggression, in dogs with obsessive-compulsive disorders or very anxious dogs.
In order to ensure a holistic approach to counselling, I need precise information about the dog's everyday life, state of health and attitude for the first meeting. You can provide me with this information in a questionnaire which I will send you in advance.
The first consultation, a 90-minute assessment of your dog, takes place at your home.
There I will assess your dog's emotional state at the time of the problem behaviour, discuss with you how your dog feels and behaves in general, and observe the environment to find out which factors maintain the problem behaviour.
Together we will develop a training plan that will help you as a human/dog team to understand and resolve problem behavior.
After the consultation you will receive a written report including a training plan and the possibility of a debriefing via e-mail and telephone.
Consulting fee: approx. 1 ½ hours of consulting and training, incl. telephone follow-up, 60,- €
For consultation appointments that last longer than 90 minutes: each additional 15 minutes plus 10,- € Travel expenses: 0,30 € per Km