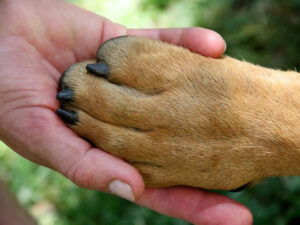 Some dogs find it difficult to focus on the owner when other dogs are around. They are afraid and too excited to give the owner the attention he has longed for.
The result is frustration on both sides and "learning" cannot take place.
Individual training enables me, as a trainer, to give you full attention as a human-dog team.
You learn to read your dog and understand its behavior, so that it is fun to go for walks in the park or to go on sniffing adventures in the forest. There the towline serves as an invisible strap, which offers you the security that you both need at the beginning so as not to get lost.
Little by little, they learn to understand their dog's language and to communicate respectfully and relaxed with their dog with and without a leash. The training takes place in different places with different stimuli in order to better recognize successes and to seek encounters with everyday distractions.
It is important to me to convey the training goals to dogs and owners in small, comprehensible units so that they are able to integrate them into their everyday dog ​​life without much effort.
My goal is to give dog owners and their dogs the best possible knowledge in order to build a happy and trusting relationship.
Training fee approx. 1 hour: 35,- €
Each additional 15 minutes plus 10,- €
Travel expenses: 0,30 € per Km